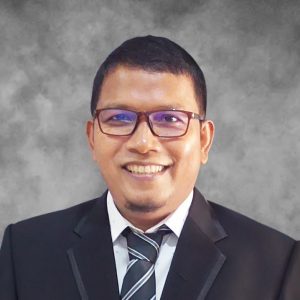 Dr. Iswadi Hasyim Rosma, ST, MT, PhD, MIEEE was born in Kampar county, Riau province, Indonesia in 1978. He received his bachelor (Sarjana Teknik:ST) and master degree (Magister Teknik: MT) all in electrical engineering from University of Diponegoro (supervised by Juningtyastuti Astika and Mochammad Facta ) and Bandung Institute of Technology (supervised by Redy Mardiana), all in Indonesia in 2002 and 2007 respectively. His bachelor and master degree study were supported by the student aid scholarship (bantuan belajar mahasiswa) and the postgraduate program scholarship (BPPs DIKTI) of Indonesian's government respectively.
Since 2003, he has been an instructor/junior lecturer (asisten ahli) in electrical engineering at University of Riau (UNRI), Indonesia. In 2010, he was promoted as a senior lecturer (lektor) at the same university. He has been teaching in different subjects, namely: electric machinery, transformer, electric circuit 2, power system protection, engineering mathematics 1 and 2 at University of Riau. He was also giving part time lecture at several universities in Riau province, namely: State Islamic University of Sultan Syarif Kasim Riau (UIN SUKSA), University of Muhammadiyah Riau (UMRI) and Politeknik Caltex Riau (PCR). He has supervised a number of diploma III (vocational/undergraduate) students in the area of protection, automation, control, electric machine, energy and power system at University of Riau.
Iswadi joined the Energy, Power and Intelligent Control (EPIC) research cluster at Queen's University Belfast, United Kingdom in September 2012. His PhD research topic was Phasor Measurement and Stability Analysis of Power System with Renewable Energy Sources. He utilised two approaches for analyzing the small signal stability, namely: PMU and modal analysis based of small signal stability while he used frequency transient event from actual PMU and simulation model to analyse the frequency transient stability. He also utilised frequency disturbance data from PMU at generator location to estimate synchronous generator inertia constant. His PhD study was supported by the Directorate General of Higher Education of Republic of Indonesia Scholarship (BSLN DIKTI) for 3 years period. He has successfully depended his PhD thesis in front of internal examiner Dr. Tim Littler and external examiner Prof. Gareth Taylor from Brunel University, London on 24th March 2016. His PhD study supervisors are Prof. D. John Morrow and Dr. Robert J. Best from EPIC, QUB.
He is also known as Iswadi HR; HR Iswadi; IH Rosma and Iswadi, H. R.
Given Name: Iswadi HR
Business Card
Professional Memberships
IEEE member
IEEE PES member
IATKI member
ASASI Riau member
Scholarly Id